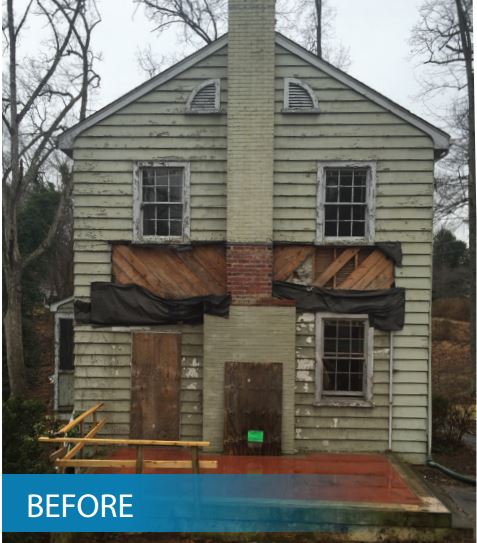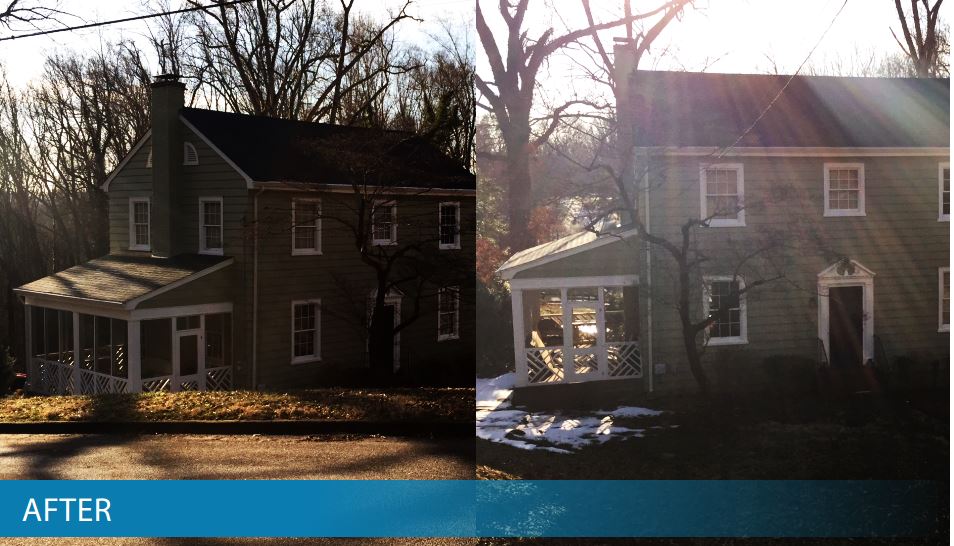 Betty and Paul were life-long renters, nearing their mid 40s, waiting for the right moment to settle down and the right place to call home. Both Paul and Betty have an appreciation for historic, traditional-styled homes and would occasionally tour neighborhoods in search of them. "When we go on vacation we even pay money to look at historic homes!"
Last November, Betty finally came to the conclusion that their finances would "never improve as long as we rent." She was a bit anxious about how Paul would react to this idea, as "Paul has always rejected the idea of buying a home… because he did not want us to be tied down to a house in Virginia and not be able to move…"
But it seems her words did have an effect on Paul.
"Next thing I l know Paul is asking me if I wanted to look at an old house. I thought it was just out of curiosity because we both like historic homes," says Betty. However they soon fell in love with the property, despite the fact that it was in need of some serious work. The house was built in 1932 - over 75 years old - and it showed. Betty and Paul weren't exactly sure where they would get the money for renovations. That's when they reached out to Dan Castagna, a Licensed Mortgage Originator for AnnieMac Home Mortgage.
"They were buying their first home and they wanted something with a historic feel to it," says Castagna. He knew immediately that this was exactly the kind of home which the FHA 203K loan, a government-backed housing loan that includes renovations, was made for.
The 203K loan is an FHA-insured product which has been around for about 30 years, but has recently become a more popular choice, as the number of 203K loans granted has tripled in just a few short years.
The 203K loan has many benefits for people in Betty and Paul's position. Borrowers looking to purchase can often find a home in an area that would typically be out of their price range. Additionally, the 203K allows for a minimal down payment, as low as 3.5%, and is also available to borrowers who have a lowerthan-average credit score. This makes the barrier to entry for being a homeowner almost non-existent.
The loan is also available to homeowners who are looking to refinance and make some renovations. "You could include anything from new paint and appliances to an entire remodel of the home in the loan amount," Castagna says. "It also has benefits for the neighborhood, as the instant equity that is created can help raise home values in the local area."
"We did the loan with a consultant to help guide Paul and Betty through the necessary repairs. They decided to scrape and paint the house, rather than place vinyl siding on it. A tree had fallen and ripped the porch off the house. There are more large trees which should be removed so something similar doesn't happen again. Broken windows need to be repaired. The electric needs to be brought up to code with new 200Amp panel. The project is going to take about 6 months to finish, so we also put 6 months of mortgage payments into the loan."
Castagna also says that the 203K is just one of the many renovation loan products available to borrowers from AnnieMac Home Mortgage. "Every borrowers situation is unique, so it's best to reach out to a loan officer to see which product best fits your needs."
For Paul and Betty, this is a new chapter. "It's a bit overwhelming," says Betty, "however, Paul and I believe this is the house that God has for us. Now… we wait to see what will happen in the next phase [of our life together]."